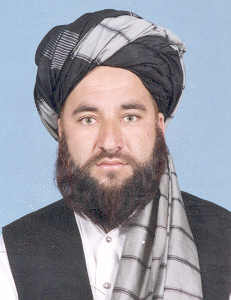 Maulana Nek Zaman
(pictured above) a National Assembly member with Pakistan's
Muttahida Majlis-e-Amal (MMA)
, has been
accused of supporting terrorism
"directly or indirectly" in the North Waziristan Agency where authorities say they seized weapons and a Chinese 'spy' drone which
al Qaeda
allegedy used to spy on security forces in the area.
The MMA is a coalition of hardline Islamist parties, and is headed by Qazi Hussein Ahmed, amer of the Jama'at-i-Islami. (Which is said to be the
parent group of the Islamic Circle of North America
). Hussein and his group have called bin Laden and Khalid Sheikh Mohammed
heroes of the Islamic world
. At least 4 top al Qaeda leaders were found sheltered in the homes of JI members. The MMA is a staunch opponent of Musharref. Also see
this story.
And
this post.