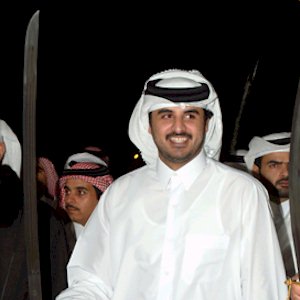 "
The Crown Prince of Qatar should be stoned to death for being gay, according to Dr Yusuf al-Qaradawi, the Muslim fundamentalist scholar who is based in Qatar,"
reported UK gay group OUTRAGE on August 5. [see previous posting for more on al-Qaradawi.]
On
August 2 Al-Jazeera reported
that 25 year old
Crown Prince
Tameem Bin Hamad Al-Thani
of Qatar had been banned from a gay nightclub in Britain after getting into a fight with his lover.
The UK gay group Outrage complained: "
Aljazeera has effectively outed the Crown Prince to a worldwide audience. It puts his freedom and life in danger
."
"This is a clear example of how fundamentalist clerics like Dr Qaradawi incite the execution of lesbian and gay people," said Aaron Saeed, Muslim spokesperson for
OutRage!
The Al-Jazeera story however has disappeared
and is only available in cached form, as has the IslamOnline story, leading
some to wonder
whether this wasn't a fabrication designed to destabilize the government of Qatar. (The story of course, has propagated throughout the Internet.)